Remote WorkINN
"A Home Office with no Distractions!"
Are you currently working from home but looking for a change of scenary? Are you not getting as much work done at home as you originally hoped?
Our latest offering "Remote WorkINN" might just be the perfect solution.
Rent your Office Space here at the Inn at Dromoland for 3 Days for €100 or for 5 Days for €150.
Reserve your place now by calling 061-368161 or by emailing info@theinnatdromoland.ie
This offering provides you with a single occupied workspace with full privacy and no interruptions from 7am to 6pm daily.
It also gives you a bright and spacious work setting with amazing views of Dromoland Golf Club and the Shannon Estuary from your desk.
It even enables you to go for a lunchtime stroll around the 450 acre Dromoland Castle Estate.
As a Failte Ireland Covid-19 Safety Charter member we guarantee that the highest standards of sanitisation and safety protocols will be observed throughout. (For more info see https://www.theinnatdromoland.ie/COVID-19_Policy.html)
A full breakdown of what is included in this package is listed below:
*WiFi *Parking *Satellite TV *Private Bathroom
*A selection of Teas & Coffee *In-room Dining Menus
*Use of Leisure Centre & Swimming Pool *Membership of Loyalty Program
*Photocopying/Scanning/Printing available on request (Extra fees may apply) * Daily Post/Courier Collection (Extra fees may apply)
All T&C are outlined underneath the Remote WorkINN Poster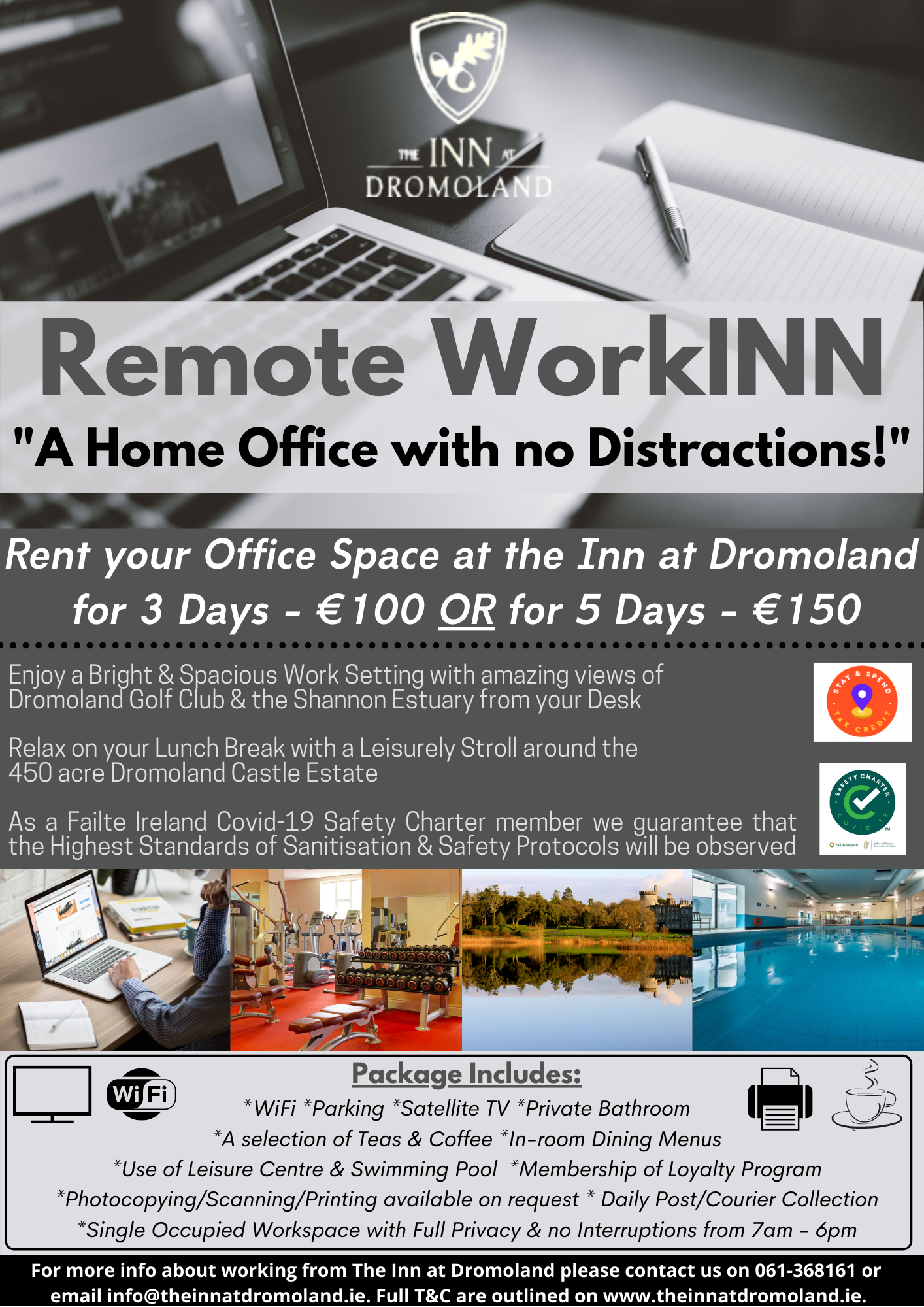 WorkINN Terms & Conditions:
-The office space can only be used by one person at a time. No meetings of clients/co-workers are allowed.
- The office space is available daily between the hours of 7am and 6pm only. This will be strictly monitored.
-A credit card will be required to guarantee payment of the office space and for any extras including food, beverage and printing/posting services. 
-The Gym and Pool require advance booking for individual time slots.
-The hotel's general rules and Covid-19 policy will apply to all customers of this offering.
-For further information on qualifying for the Stay & Spend scheme visit www.revenue.ie
-Membership Loyalty Program: For every ten paid days of rented office space you will be entitled to one complimentary day of office space. For more information on this please ask at reception.